AIONCLOUD
's
Intelligent SASE Platform
with Global Presence
AIONCLOUD is an ALL-IN-ONE platform providing global cloud security service
AIONCLOUD
's
Powerful
Threat Intelligence
Platform
AIONCLOUD interacts with threat Intelligence platform, 'AICC(Application Insight Cloud Center)' - an artificial intelligence and cloud based security engine.
AIONCLOUD
's
Stable Security Service
on Global Network
AIONCLOUD has world wide service infrastructure,
40 datacenters in 15 regions around the world.
AIONCLOUD
's
Detailed Features,
Intuitive UI,
Easy Management
AIONCLOUD has user-friendly UI and detailed features. you can see all in intutive dashboard and monitor website status in real-time
Why AIONCLOUD?
Protect your website easily and freely.
No CapEx &
Deployment

No Need to buy
& install HW/SW
Little
Admin Cost

Reducing Update &
Maintenance Cost
Easy to
Expand &
Shrink

PAY AS YOU GO
(Scalable system)
Available
Anywhere

No cost to backhaul
traffic to HQ
Real-time
Update

Real-time update for
latest security feature
Optimize Web
Performance

Website Performance
& Security
AIONCLOUD is …
AIONCLOUD is an all-in-one global security service on a Secure Access Service Edge(SASE) platform
that provides the necessary security services in the cloud-based data center.

We provide various security services such as Web Application Firewall (WAF) service,
Website Malware Detection (WMD) service, and Secure Web Gateway (SWG) service.


"AIONCLOUD provides
Secure Access Service

"
Website Protection
WAF
(Web Application Firewall)
WAF service for website
security & performance
Block various web attacks
Block abnormal access
Block personal data leakage
Web performance optimization
Free up to 5GB/mon
See more
WMD
(Web Malware Detection)
Diagnosis service to extract
malware from website
Detect malicious URL
Auto Website Visit & Diagnosis
Diagnose if the website is exploited as malware's spreading point or waypoint.
Reporting & Malware Alert
See more
Secure Internet Access
SWG
(Secure Web Gateway)
Web and URL Filtering, DLP
we can deliver security to all users.
URL Filtering
Malicious URL Detection
Prevent leakage of personal and confidential information
Full SSL traffic Inspection
Traffic Forwarding to Cloud
See more
AISASE (Application Insight Secure Access Service Edge)
AIONCLOUD is working on it's own SASE(Secure Access Service Edge, We call it AIASE) platform that
provides global cloud security service. The AISASE platforms based on high-performance proxy
technology and containerized cloud architecture provides Secure Access Services.
Provides a full network
security stack as a single
cloud-based service platform

Multi-tenant architectures
that dynamically
scale on demand

Securely connect all Edge's
Internet access, including
desktop, laptop, mobile and IoT

Agile and flexible
orchestration based on 40
IDCs in 15 countries
AIONCLOUD WAF (web application firewall) is …
01
Powerful and free WAF service that does not require HW / SW installation, maintenance, license
02
Easy to install and configure via SECaaS platform
03
Simple subscription process, easy management
Why choose
AIONCLOUD

WAF?
AIONCLOUD WAF
|
FREE up to 5 GB/month
+ more
You can use WAF for free up to 5GB per month and additional capacity with pay-as-you-go
system that allows you to expand or shrink freely. So WAF is cost-effective.
AIONCLOUD WAF
|
HIGH Performance in SECURITY
WAF service provides the same function as a Web Application Firewall with low cost and easy setting.
It protects your website against the critical web threats such as Brute Force Attack, Malicious Bot, SQL injection, XSS.
OWASP Top 10 Vulnerability Block
Blocks the most critical vulnerabilities such as SQL injection, XSS, CSRF with various policies.

AIONCLOUD WAF
|
HIGH Performance in MANAGEMENT
WAF service provides various features to optimize your website's operation

Multi-Domain Management
You can use multiple domains with one account. WAF applies different policies by domain

Web Acceleration with Web Caching
WAF stores frequently requested files in cache, and if the files is requested, it sends them to Client quickly to reduce traffic & time

SSL Certificate Issue
WAF provides free SSL certificates that encrypt plain traffic between visitor and Web server.
AIONCLOUD WMD (Website Malware Detection) is ... + more
WMD (Website Malware Detection) service is to visit website regularly and diagnose malware
infection for quick and early response and minimizing damage. WMD executes
multi-level analysis with static / dynamic analysis engine (MUD; Malicious URL Detection).
Why choose
AIONCLOUD

WMD?
AIONCLOUD WMD
|
MUD
WMD performs multi-level detection/analysis to detect malware by
MUD that Analyzes if website is exploited as malware's spreading point or waypoint.
Web Vulnerability

Malware

Ransomware
AIONCLOUD WMD
|
Automated Alert
WMD service contain 'AUTOMATED ALERT' function that enables early response to attack.
Automatic Alarm
Provide Email notification
when malware is detected

Automatic Report
Send automatic report
of diagnosis results
AIONCLOUD SWG (security web gateway) is …+ more
01
A complete secure web gateway solution delivered as a service
02
Deploy in minutes & Easy to use
03
Always-on security that follows the service user regardless of location
Why choose
AIONCLOUD

SWG?
AIONCLOUD SWG
|
AI-based detection and prevention technology
MUD

(Malicious URL Detection)
UCC

(URL Category Classification)
MAD

(Malicious All File Detection)

MSA

(Malicious Similarity Analysis)

Threat Intelligence Platform AICC (Application Insight Cloud Center)
Malicious File Block
Malicious URL Block
AIONCLOUD SWG
|
SSL Inspection
SWG service provides all security features, including self-encrypting and control for SSL traffic (HTTPS), without requiring a separate system. Specifically, it controls outbound traffic from clients to servers to provide perfect SSL visibility.SWG enhanced security with the ability to automatically deploy SSL certificates. If you don't have SSL certificate, SWG will issue certificate and if not, it will pass by automatically.
AIONCLOUD interacts with Threat Intelligence Platform,
AICC (Application Insight Cloud Center)+ more
AICC Portal
Its Threat Intelligence Platform, AICC is based on Artificial Intelligence in the cloud.
AICC goes through steps (Collection > Analysis > Processing > Distribution) about
threat information in real time to let AIONCLOUD block global emerging threats.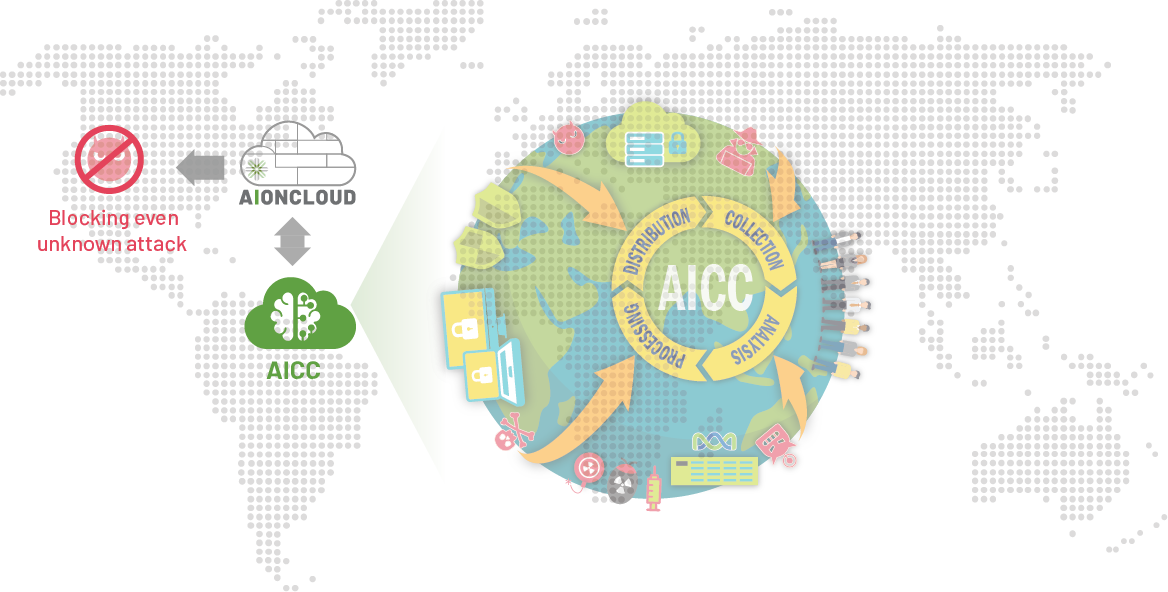 AIONCLOUD Global Security Nodes
AIONCLOUD has world wide Service Infrastructure , 40 Datacenters in Global 15 Regions.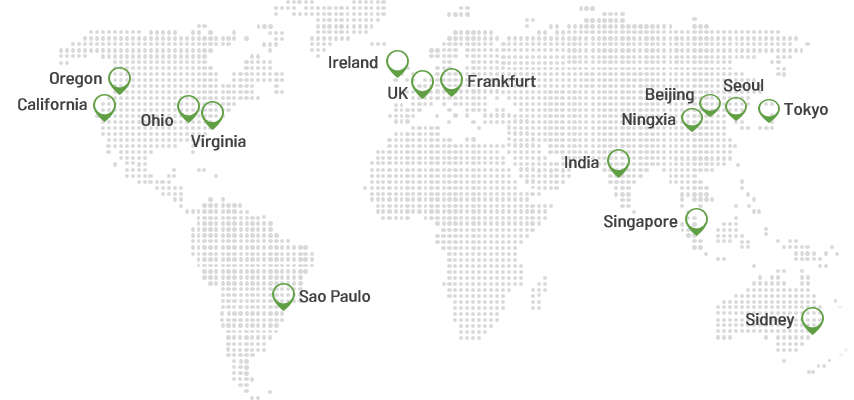 AIONCLOUD
enables EASY Installation and Setting in few minutes.
AIONCLOUD is trusted by 3,500 customers.