AIONCLOUD's
Security Service Edge(SSE)
AIONCLOUD offers SSE, which is the most suitable unified
network security platform for the accelerating digital business era.
Let our experts show you AIONCLOUD SSE platform Secure Internet Access
Request a demo
What is Security Service Edge(SSE) platform
Security Service Edge (SSE)
is a security term introduced and defined by Gartner in early 2021, referring to an aggregation of various network security services offered within a cloud platform. As digital transformation accelerates, companies have needed a new form of network security that surpasses the limitations of traditional security products. SSE has emerged as a fitting new security solution to meet these demands.
In the digital business era, where a hybrid working environment is prevalent, SSE is considered a crucial component for enterprises in establishing secure access to the web, cloud services, software as a services, and private applications while building cloud and networking security that can safely accommodate enhanced performance and growth. According to the Gartner's recent research, SSE is primarily delivered as a cloud-based service and may include a hybrid of on-premises or agent-based components. Also,SSE cloud-based components and capabilities should include:
Granular access control
Threat prevention
Data loss prevention
Support for managed and unmanaged devices
Integration with 3rd party solution
Security monitoring
What has driven the rapid rise of SSE?
The changing work environment after the pandemic has starkly revealed the limitations of traditional perimeter security. With the constraints of physical office spaces disappearing and the adoption of 'as-a-Service,' which includes cloud-based software and infrastructure usage, corporate data has shifted from on-premises environments to cloud spaces. This has made it increasingly challenging to maintain security with legacy security solutions.
The traditional security technologies limited to
on-premises environments cannot protect remote users.
Legacy solutions cannot monitor connections to various
Software-as-a-Service and Infrastructure-as-a-Service platforms and users.
The proliferation of various cloud-based services makes it difficult to
purchase and maintain a multitude of network security devices.
The emergence of a new working paradigm, the hybrid work environment, where remote and office work have merged, along with the adoption of 'as-a-Service', has necessitated a new form of security that simultaneously enhances work efficiency and ensures a secure working environment. As a result, SSE, which offers various security products provided in the cloud as a service-based security, is recognized as the optimal solution to address the challenges faced by businesses.
The difference between SASE and SSE?
Secure Access Service Edge (SASE), Introduced by Gartner in 2019, is a unified network and security service delivered in a cloud-native model. SSE (Security Service Edge) within SASE integrates all security services except for the network services part (such as SD-WAN, WAN optimization, SaaS acceleration), protecting access to web services, cloud services, and private applications. SSE security services include:
1. Secure Web Gateway(SWG)
A Secure Web Gateway (SWG) inspects all traffic heading towards the web, ensuring that unauthorized traffic cannot access a corporate network. It accomplishes securing users through functions such as URL filtering, malicious content inspection, antivirus protection, and web access control, safeguarding all web-connected users from web-based threats.
2. Cloud Access Security Broker(CASB)
CASB, as the name suggests, acts as an intermediary or broker between users and cloud service providers, providing data visibility, security, and regulatory compliance in the cloud. CASB scans cloud-based SaaS (Software-as-a-Service) through API-based security process and offers comprehensive granular access control, ensuring users a secure SaaS usage environment and the security of sensitive data.
3. Firewall as a Service(FWaaS)
FWaaS is a foundational security solution within the network security stack. It monitors all traffic and network activities passing through SSE, detecting and preventing any threats that violate security policies.
4. Zero Trust Network Access(ZTNA)
ZTNA is a secure Zero Trust access solution enforcing granular and context-aware security policies. It provides the least-privileged access to private applications hosted across clouds and corporate data centers, allowing access only for trusted users, making it a secure solution.
AIONCLOUD's SSE,
Secure Internet Access(SIA)
Benefits of SIA
over legacy security solution
Secure Internet Access (SIA) is AIONCLOUD's SSE platform. AIONCLOUD SIA, as one unified cloud-native platform, liberates enterprises using legacy network security solutions from modern security challenges and offers various advantages.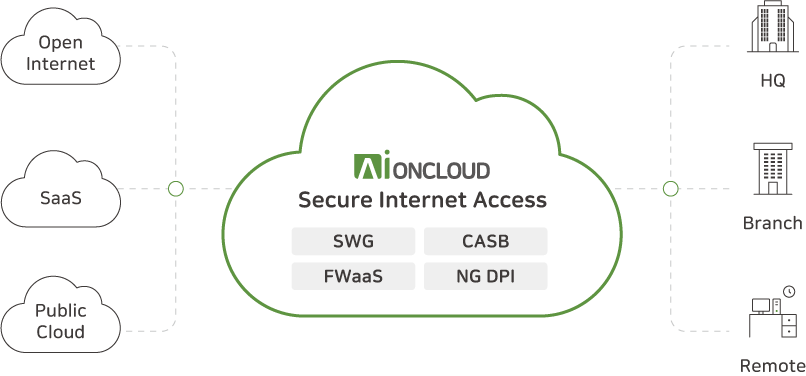 AIONCLOUD SIA unified essential key security services for network security—SWG, CASB, ZTNA, FWaaS, DLP, etc.—into a single cloud platform. It eliminates the complexity of adopting and managing on-premises infrastructure-based multi-point security solutions from various vendors, making it highly efficient in terms of cost, time, and management.
AIONCLOUD SIA is distributed across a global edge network. Through this fully distributed SSE platform spanning the global network, enterprise users can experience an enhanced and secure network environment with low latency, no matter where and when they access web, cloud, and public applications.
AIONCLOUD SIA's zero-trust approach to the cloud eliminates the high threats that occur when users and devices connect to applications. It provides complete session protection even when not connected to the corporate internal network.