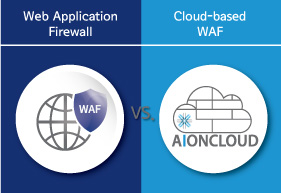 Unlike traditional network firewalls, general Web Firewall Web application firewall (WAF) is a solution that developed specifically for web application security.
Web firewalls inspect suspicious web traffic that other security appliances may miss before reaching the actual web server, and automatically catch malicious web traffic after filtering illegal traffic.
Web firewalls are essential for mitigating a variety of threats, but companies often have trouble with expensive equipment.
Cloud-based WAFs leverage all the benefits of this generic WAF, and it is good service that reinforce the disadvantages of expensive pricing for Web firewall appliances.
With Threat Intelligence, you can share relevant threat detection information, improve results, and increase detection rates.
And instead of the expensive Web firewall equipment, Cloud-based WAFs provide a cost-effective solution.
Cloud-based WAF users do not need to change or tune software or hardware on their systems, and they can successfully protect Websites from threats by applying custom rules and determining the aggressiveness of attacks.
AIONCLOUD also provides a cloud-based web firewall (WAF) service that ensures website protection and performance improvements by minimizing security threats.
AIONCLOUD WAF is a unique service that protects websites from various attacks and improves business performance.
By simple change of your DNS settings, your website traffic will be diverted to the AIONCLOUD network.
AIONCLOUD WAF protects your Web site against a various Web threats, including SQL injection, DDoS, information disclosure and theft identification, while ensuring legitimate access.
So let's learn more about AIONCLOUD WAF.
AIONCLOUD WAF is designed as a Web security service provided by a proxy-based solution.
The high performance of the proxy module allows all web traffic to forward to the page set by the client.
Before forwarding traffic to the origin server, it analyzes and blocks malicious traffic and delivers only secure data to the client.
In addition, AIONCLOUD WAF can also interacts with threats intelligence.
AIONCLOUD WAF defends zero-day attacks and sophisticated threats by collecting, analyzing and sharing threat to integrate threat intelligence.
In addition, because AIONCLOUD WAF has custom security rules, you can control who and what can access your website, and use AIONCLOUD's custom policies to handle unwanted visitors by specific IP, URL, and country.
AIONCLOUD WAF has the advantage of easily managing security without any IT expertise.
Intuitive AIONCLOUD UI provides real-time monitoring of website status and simple security settings, enabling you to quickly and easily apply security policies and manage them conveniently.
With AIONCLOUD WAF, businesses can protect their web servers with a broad spectrum of locations, regardless of their location, and whether your website is platform or business size, you can use it if you just have a website.
Within 3 minutes, you can have access to security services, if you register your website and change your DNS settings.
No hardware or software to manage installation or maintenance, and no code changes required.